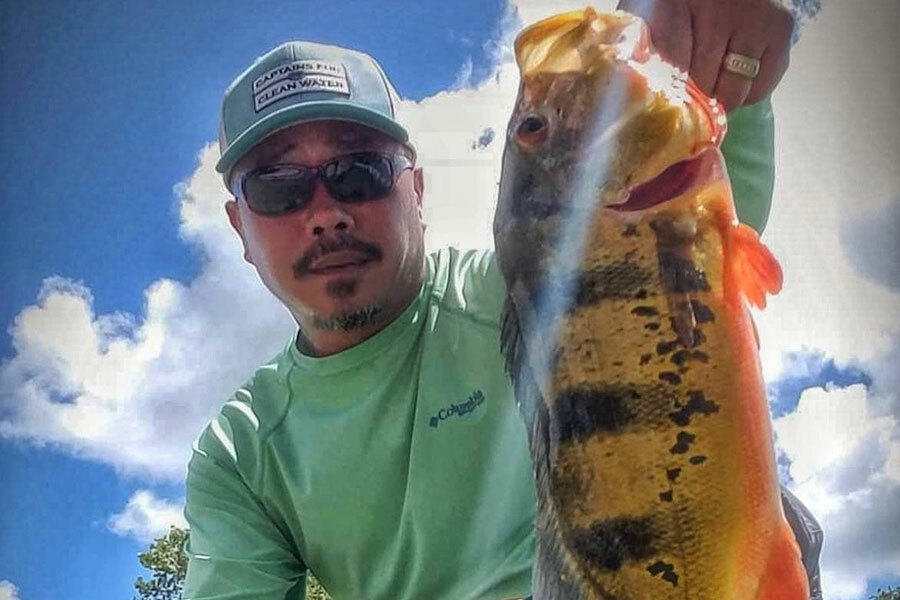 Peacock Bass Fishing Florida - Captain Justin Nguyen
The peacock bass fishery in South Florida is rather unique.
Peacock bass or tucunaré in Brazilian is from the cichlid family, a predatory freshwater fish native to tropical South America, with predominance in the Amazon and Orinoco basins, as well as rivers of Guianas and Colombia. As more and more anglers traveled to this region and came back ith stories of this beautiful and fierce gamefish, Peacock Bass have become one of the most sought after freshwater species in the world. If you have never tangled with a Pea, get ready for super aggressive eats, powerful runs and a paint job that is unrivaled.
Pound for pound, peacock are arguably one the most aggressive, hardest fighting, lure smashing fish in the world. This acrobatic and colorful jungle species readily takes flies, poppers, jigs, crankbaits, spinning baits and bossy top water lures. The pursuit of peacock bass offers an unparalleled experience. The fish can be demanding fish to catch, but is still one of the most popular sportfish in southeast Florida waterways.
When you think about peacock bass fishing Florida with the intent of hiring a guide to put you on this hard hitting exotic species, it is a good idea to give consideration to a fishing guide that is equally adept fishing from the shore or a boat. You may also want to go with a fishermen that brings a multi-discipline skill set to the water. Going with a guide that is supremely qualified with both fly fishing gear and conventional is always a good idea. Peacock bass will attack all sorts of presentations, but there will be times when a lure will not work, where a fly will and vice versa. If you add to the mix a guide that is also an amazing chef, that prepares to best shore lunch you have ever had, y0u have the makings of a truly memorable fishing experience. Captain Justin Nguyen fits this mold.
Justin Nguyen started his first guiding business in the midwest, guiding for steelhead. The skinny creeks and rivers he made his living fishing were replete with fallen trees, overgrown banks and plenty of snags in the water. He was forced to develop excellent casting skills, which now serve him extremely well in the urban jungle environment of S. Florida. One of the great benefits of fishing with Justin is his unique low key approach to sharing his fishing prowess with those who have the pleasure of fishing with him.
Florida Peacock Bass
The peacock bass fishery in South Florida is rather unique. Introduced by FWC in 1984, peacock bass took quickly to the urban canals and waterways of southeast Florida. Peas were enlisted to combat booming populations of invasive species such as spotted tilapia and Oscars. This simple test to see whether peacock bass could deal with the invasive species problem turned into a gold mine for sport fishing anglers desiring to catch peacock bass, but not wanting to travel to South America. The low water temperatures and intolerance of saltwater prevent this species from becoming abundant outside of the coastal Miami and Ft. Lauderdale area.
The South Florida ecosystem is the only place in the continental United States that support peacock bass habitat. Peas are warm water fish, originating from the Amazon River. As ever other water system in the U.S. cools in the winter months, South Florida maintains an aquatic habitat that stays warm enough to support the peacock bass. The freshwater aquifer there maintains a constant 72-degree water temperature.
To a large degree, the fishing for peacock bass in S. Florida is defined by slinging baits into canals and waterways that are overgrown and at times only accessible from land. Casting windows can be tight and strategic placement of your presentation is really important. You may even find yourself spot hopping from a car or truck, rather than a boat, to cast to a super productive fishing hole. This is not to say that a boat is not required, because a lot of great fishing can be had in areas that only a boat can get you into. The thinking is that there are hundreds of miles of interconnected canals and inland waterways that were cut to carry water from the swamps to the sea. In most of these stretches of water you will find peacock bass. To really navigate all these options and to get into some super skinny areas that hold chunk bass, you need a guide that is accustomed to fishing overgrown, hard to get to spots. This is where Captain Justin Nguyen comes in.
Structure Fishing
Peacock bass are very much structure oriented fish, much like largemouth bass. The interesting part about the type of structure you experience in South Florida is that much of it is man made. Sure, you will find rock piles, fallen logs, points and sand bars holding peas, but you have hard edge drop offs and drain pipes. A lot of the canals that hold schools of peacock bass were cut from limestone. This limestone edges create near vertical drop offs from shallow to deep water. These areas serve as great ambush points for these predator fish. They also tend to favor limestone to bed on.
Shaded areas due to the tropical overgrowth around bridges, culverts, and other structures are generally very productive fishing spots, along with fallen trees, canal ends, bends, and intersections. The canal systems of Dade and Broward County are very intricate, with a majority of them connecting to one another through culvert pipes. This allows all of the canals to connect, serving as fish highways.
Peacock bass inhabit most of the fresh water in South Florida, but only some places are accessible to fisherman by boat. One of the coolest aspects of fishing this Florida wonderland is the ability to pull your vehicle off the road and fish a spot holding chunk peas. Justin knows this patchwork of interconnected canals like the no other. Whether by boat or by truck, Justin can share with you a magical fishing experience.
Peacock Bass Baits
Peacock bass are primarily eaters of other fish and are not keen on taking a worm or some other insect or amphibian. There is, however, one crustacean that peacock bass are suckers for, grass shrimp. These translucent critters are only an inch or two long, but are killer baits for peacocks. A majority of the peacock bass diet is other cichlids, such as small Mayan cichlids and spotted tilapia. This is why they have done so well cleaning up all the invasive fish. Jewel fish are another species that peacock bass key in on. It would make sense that with peacock bass being introduced to do away with tilapia and oscars you could use them as bait, but check with the FWC before proceeding to make sure the live bait you intend to use is legal. Minnows and small shiners are among the best live baits for peacock bass. Mayan, and Salvini cichlids are widely used as bait for peacock bass. They're natural canal food for the peas.
Although you cannot use juvenile cichlids for bait, there are a ton of lures that mimic these baitfish almost perfectly and work wonders. Peacocks will rarely take plastic worms like largemouth bass do, but top-water lures, minnow imitating crank and jerk baits, and marabou jigs are lethal artificial baits. For fly fishermen, streamers, epoxy minnows and pencil poppers are great choices. One of the very best options are the custom flies that Captain Justin ties. It is almost guaranteed that if you throw one of his hand tied gems, you will be releasing a nice peacock bass.
Justin Nguyen and the Shore Lunch
If Justin wasn't a fishing guide, he would be a chef and a chef extraordinaire. His food has anglers booking with him just so they can taste his gastronomical creations. He pours his heart into every dish. You can taste the passion that goes into his shore lunches. I have fished all over the world and have eaten some amazing food on some world class boats. Most of the really good food I have been served came when I was fishing from mother ships. Never in my life have I been served the type and quality of food Justin provides on a day charter. His shore lunch is beyond comparison. If he opened a restaurant, you would gladly pay him for his culinary genius.
Each shore lunch Justin Nguyen prepares exudes passion. Just imagine being served some of the following.
Items from Justins shore lunch menu:
Beef stir fry with cucumber, tomato, sweet onion topped with green shallot, cilantro and black pepper. Served with rice.
Caramelized pork belly with prawns, and pineapple topped with green shallot. Served with rice, salad, cucumber, and tomato.
Beef stir fry with bell peppers, and sweet onion. Served with rice.
Captain J's special fried rice. It could be beef, chicken, pork or shrimp or a combination
Caramelized pork spare ribs, served with rice and salad, cucumber, and tomato.
Tofu with broccoli stir fry served with rice.
Beef cubes with sweet onion served with rice, and a salad of watercress, sweet onion, and tomato with a light sour vinegar sauce.
Beef stir fry with peapods, served with rice.
Whether it is through his food or his skill at putting clients on rod bending peacock bass, Captain Justin Nguyen is fully committed to making sure you have an unforgettable fishing experience. Check out his website https://castalineflycharters.com/ and book the best chef and peacock bass fishing guide in South Florida.
If you are interested in learning more about fly fishing for peacock bass with Justin, check out his video Peacock Bass Florida with Justin Nguyen
Seth Horne
Chief Creator
In The Spread
Seth Horne
In The Spread, Creator
User Reviews
There are no reviews yet.