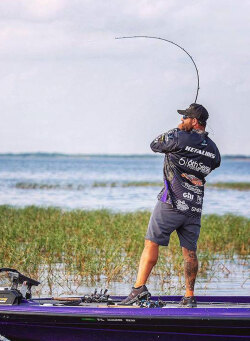 Nick Kefalides - Largemouth Bass Fishing Videos
Nick Kefalides is among the very best bass instructors to learn from.
When it comes to largemouth bass fishing videos and your desire to learn seasonal tactics, Nick Kefalides is among the very best instructors to learn from. His series with In The Spread on Florida largemouth bass fishing are as thorough and meticulous as anyone could expect. If you are interested in increasing your knowledge base on how to fish for big bass, take some time to explore our largemouth bass fishing videos. Watch Nick here.
In the course of my work with In The Spread, there are not many captains, guides or anglers that I have worked with that are as diligent and hard working as Nick Kefalides. Nick's passion for fishing goes back to his days growing up in south Florida and prowling the canals and waterways that create a patchwork of incredible freshwater fishing that define the state. His work ethic derives, to a certain extent, from his time in the Marine Corps as a special operator. His passion and experience work well in tandem. You definitely see his military experience in the way he runs his Warrior 2 Bass Fishing Guide Service. Everything is well organized and executed at a very high level.
There are only a few fishermen that I routinely interact with that are as unassuming and humble as Nick. He is first and foremost a super nice guy. You can see his desire to help you experience the giant bass fishing of central Florida. Nick puts in a huge amount of effort to put his friends and clients on big ol' bucket mouths. If you have fished with him or perhaps interested in fishing with him, you will not be let down.
The area of his fishing prowess that I find most intriguing is how precise he is with his technique. Nick Kefalides is dialed in on how big bass behave throughout the seasons and the best presentation to use to trigger strikes. His boat is immaculate and tackle storage is what you would expect from a highly respected Marine Corps veteran. Everything is stored away and neatly kept. You will not find a shred of debris on his boats deck.
To reiterate, Nick's approach to seasonal bass fishing and the requisite tactics required to bag giant bass on the regular is remarkable. The guy is as focused on his work as anyone I have ever witnessed. There is no BS, there are no fishing tales about what was caught yesterday. You can expect that Nick will grind hard to put bass in the boat. His attitude is always positive. It is just a pleasure to fish with a guide that puts so much of himself into making others happy.
To be honest, I knew about Nick's service to our country before I meet him, but had no idea how selfless he is. For what he did in the Marine Corps and the sacrifices he has made, Nick is to be honored. Their is a huge difference with Nick. You get a lot of guides holding there service up as a reason to fish with them and that is great. But, not all service members that are fishing guides are top notch with their fishing program. Service aside, Nick Kefalides is an outstanding fisherman that runs one of the best, if not he best Florida largemouth bass fishing guide services in the state.
Take some time to fish and learn from a truly dedicated student of bass fishing. That's right. Nick is constantly looking to improve his own game with more knowledge. That is the approach we should all have with our fishing. If you are not trying to learn more, you will not improve. Now, I know we cannot all go out and spend the money to fish each season and bait presentation with Nick to learn all that we can. The solution rests in the largemouth bass fishing videos that Nick Kefalides has produced with us. His knowledge is on tap for you right here. Be proactive and add a bit of Nick's fishing genius to your quiver and you will catch a lot more fish.
Book your trip with Capt. Nick Kefalides today. You will walk away far more enlightened and with a new friend.
Seth Horne
Creator
In The Spread
In The Spread is one of the world's premier sport fishing video companies and educational outlets for demonstration, explanation and insight on how to catch fish. Get inside access to our video library by becoming a member.
Seth Horne
In The Spread, Creator
User Reviews
There are no reviews yet.