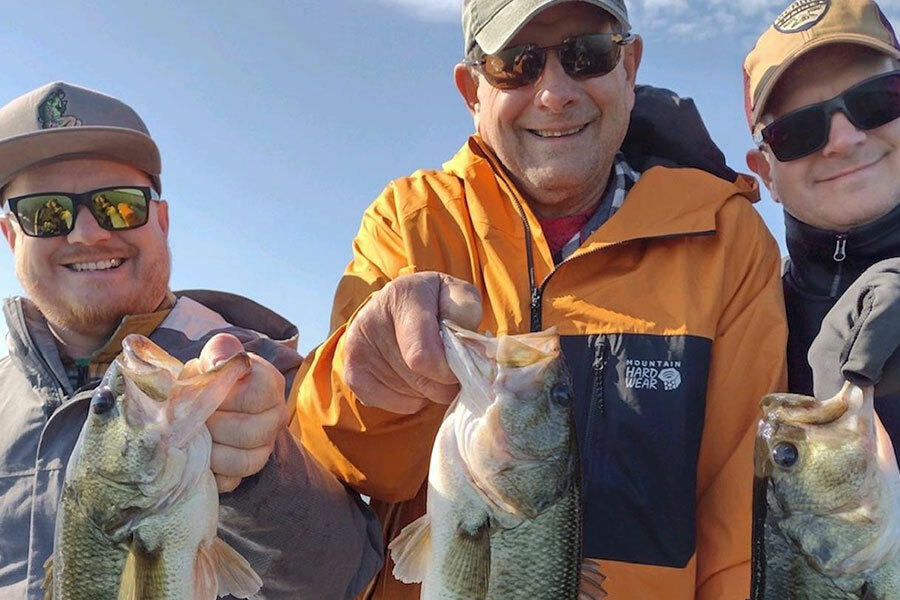 Expectations For a Bass Fishing Guide
A bass fishing trip with a guide can be about a lot of different things.
Expectations when you go on a bass fishing trip with a guide can be about a lot of different things. Learning can be as important as anything you try to accomplish during that trip. Over the many years of guiding on Lake Guntersville, I have found that people using bass fishing guides really want to learn something about fishing besides catching fish and having fun. It is my objective every day to accomplish as much of their needs as possible. With today's busy lakes and fish being caught several times over their life span you cannot always make the bass bite, but you can teach someone ways to become a better angler and that is something I can accomplish regardless of whether the fish bite or not. You can always be personable, make the day fun and work with your customer on the ins and outs of becoming a good angler.
I know many of us feel that bass fishing is about casting out and catching fish. I wish it were that easy, but unfortunately it is not. An accomplished bass fishermen is someone who has worked on crafting his or her skills. Like any other sport it takes time to understand the minor differences that can make your day a success or not. The difference in a good day and not so good can just be a little understanding of how a bait works or how to read your electronics. Putting yourself in position to be successful is not any different than any other sport. It is about the trivial things and the trivial things are what a good guide teaches you, when you go on a bass fishing trip with them.
I have prided myself in becoming a teacher and my consistent repeat customers are always learning and getting better at their passion and that is something I know in my heart and accomplish every day. Learning to be better everyday on the water has turned many of my customers into winning tournament anglers. Over my time on the water as a guide, I have had the pleasure to watch many of them grow and become accomplished anglers. I have seen lots of my customers go from not even being able to hardly cast to being an accomplished fisherman with several different baits or presentations and learning to create a bite and that my friends is extremely rewarding. Many of my customers learn very quickly that bass fishing is different than most any other type of fishing, mainly because bass do not feed constantly like many other species of fish. Therefore, you must develop your skills to get the bass to react and strike a bait and that is not always easy. When you have the understanding to get bass to react, where they live, what their movements are and why bass do what they do, your chances of catching fish go up.
Bass fishing is as complicated as any other sport. It has skill sets that must be learned and when you go with a good guide you should always be able to learn something. A little subtle change sometimes can make all the difference to you as an angler and allow you to be more successful and have more fun. Your questions should always be answered, and you should never stop asking them. Unimportant things can make big differences and I believe its my job to teach you and help you while in the boat with me.
A day on the water with me is a day of learning everything from patterns to baits; learning about rods, reels, bait colors, fish movement, the how and the why and of course catching fish and having fun. Respecting your needs and helping you is as rewarding as anything I do in a day of bass fishing. No question is too small, no need is too big and no question goes unanswered. I have no secrets. I just want you to be a more successful angler!
Capt. Mike Gerry
Fish Lake Guntersville Guide Service
www.fishlakeguntersvilleguideservice.com
www.facebook.com/FishGuntersville
Email: bassguide@comcast.net
Call: 256 759 2270
Mike Gerry
In The Spread, Instructor
User Reviews
There are no reviews yet.